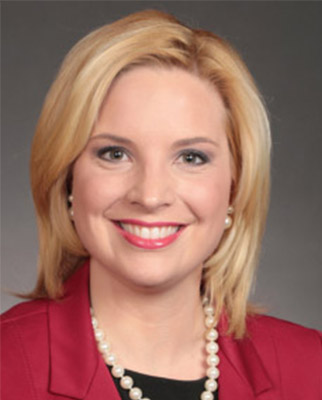 State Rep. Ashley Hinson, R-Marion, a candidate for the Republican nomination in Iowa's 1st Congressional District, announced that she raised nearly $1.1 million for her campaign since she announced in May 2019. This amount includes more than $430,000 in the fourth quarter of 2019.
Iowa donors made up for 78 percent of her fundraising haul and the fourth quarter is her strongest fundraising quarter to date. She begins 2020 with more than $734,000 on hand.
"I am honored and humbled by the outpouring of support for my campaign," said Hinson. "It's clear that our message of bringing Iowa common sense to Washington is resonating with voters across Iowa."
"We are excited by the momentum that continues to build for Ashley's campaign," said Hinson campaign manager Jimmy Peacock. "Voters know that it's time for the 1st district to have a representative who puts people before politics and knows how to get results."
Hinson's financial supporters include Ernst Victory Iowa PAC (U.S. Sen. Joni Ernst), Majority Committee PAC (Majority Leader Kevin McCarthy), Eye of the Tiger PAC (U.S. Rep. Steve Scalise), Cowboy PAC (U.S. Rep. Liz Cheney), E-PAC (U.S. Rep. Elise Stefanik), CMR PAC (U.S. Rep. Cathy McMorris-Rodgers), Susan PAC (U.S. Rep. Susan Brooks), Cut the Bull PAC (U.S. Rep. Carol Miller), Martha PAC (U.S. Rep. Martha Roby), The Freedom Project (Former Speaker John Boehner), ANN PAC (U.S. Rep. Ann Wagner) and VIEW PAC.
National political forecasters believe the 1st congressional district will be one of the most competitive races in 2020. The Cook Political Report has rated IA-01 as "Toss Up".
Hinson has a record of winning tough elections. She won in 2018 in a swing district to help hold the Iowa House majority and outperformed the Republican ticket by 5-8 points across Iowa House District 67. She won 9 of 13 precincts in her district despite Democratic outside groups outspending Republican outside groups.
An Iowa native, Hinson is the first woman to represent Iowa's 67th House District, which covers Hiawatha, Robins, Cedar Rapids and Marion. Prior to serving in the Iowa House, Hinson was an award-winning reporter and anchor for KCRG-TV9 in Cedar Rapids. She currently lives in Marion with her husband Matt and their two sons.